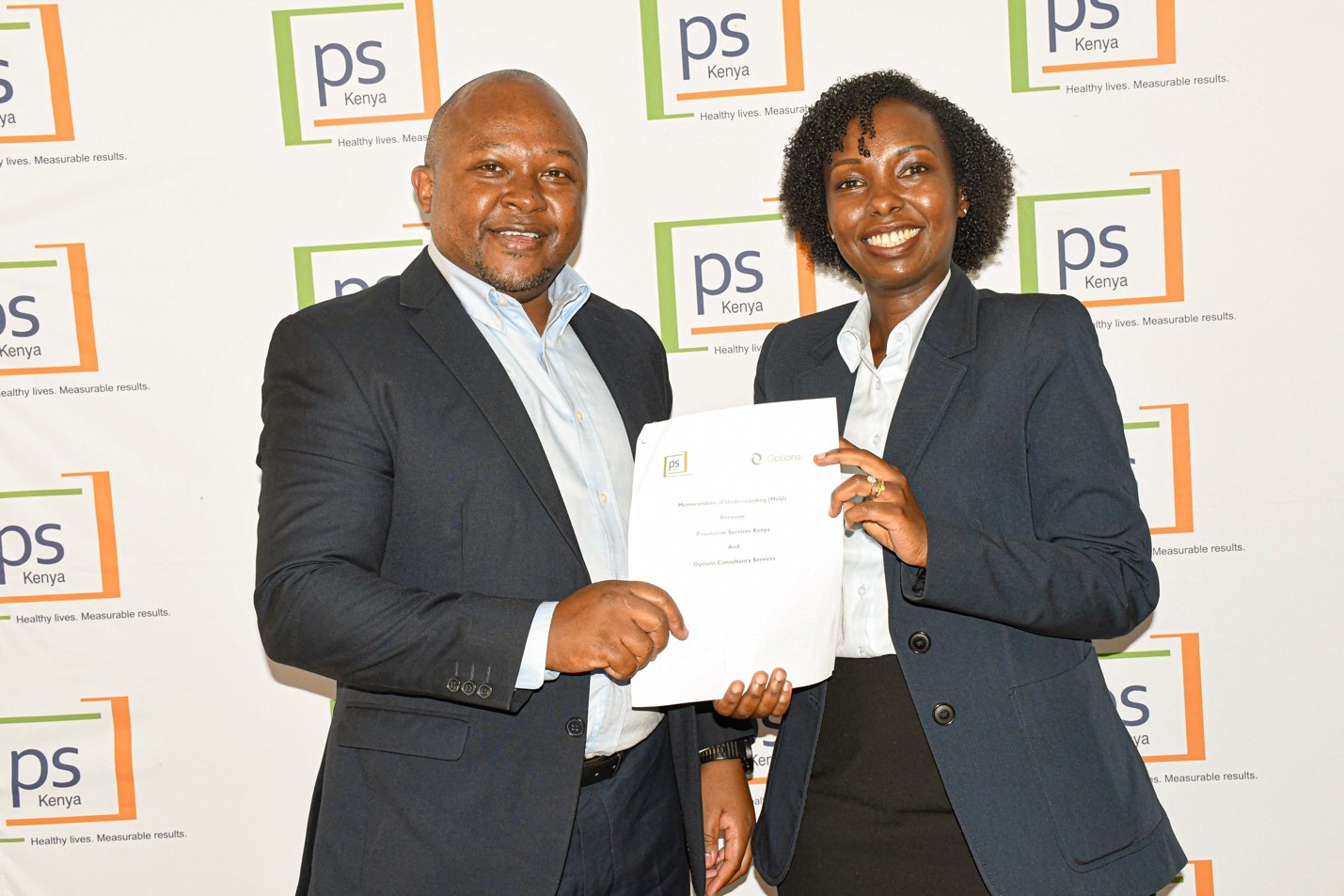 On October 24, 2023, Population Services Kenya (PS Kenya), a leading health NGO locally registered in Kenya with over 31 years of experience supporting the government of Kenya to address public health priorities, signed a Memorandum of Understanding (MoU) with Options Consultancy Services Ltd., a leading health systems strengthening organisation experienced in combining technical and programmatic expertise to drive improvements in health system performance and resilience in Kenya and the broader Sub-Saharan Africa region. This agreement will allow both organisations to leverage their cumulative health experience, resources, expertise, and partnerships to co-create evidence-based and catalytic solutions to support the government's efforts in strengthening and building resilient health systems to improve the health outcomes of Kenyans.
The engagement between PS Kenya and Options Consultancy Services Ltd builds on a recent partnership under the current FCDO – Delivering Sustainable and Equitable Increases in Family Planning (DESIP) program, one of the largest Family Planning (FP) programs in Kenya. The program is working to reduce maternal newborn and child (MNC) mortalities through the provision of greater access to and uptake of FP, focusing on women of reproductive age, adolescents, poor women (<$1.90/day), and persons with disabilities (PWDs) across 19 counties in Kenya.
In her remarks, Dr. Margaret Njenga, PS Kenya's Chief Executive Officer (CEO), indicated that the partnership will promote synergy among health development and implementing partners to support the government's efforts in addressing health priorities and promoting health equity, which aligns with the government's Universal Health Coverage (UHC) plan. The CEO echoed the benefits that would emanate from these partnerships and encourage more collaborations, citing that they would help the government reach more Kenyans with essential health services and information and ensure they have access to quality and affordable health services wherever they are and when needed.
"We are excited to extend our long-lasting strategic partnership with PS Kenya to jointly explore additional health areas in support of the government's health priorities, including the UHC and Afya Mashinani plan for Kenya. Options Consultancy Services Ltd. commits to leveraging its capabilities in policy development, health financing, quality of care, governance and accountability, monitoring, evaluation, research and learning, and health commodity security to actualize the objectives of this partnership", said Mr. Kenneth Macharia, Regional Director of East and Southern Africa for Options Consultancy Services Ltd.
This collaboration will unlock more opportunities, including key strategic partnerships and resources needed to support the government's efforts in sustaining gains and dramatically improving primary health care, and accelerate towards UHC targets to improve the health outcomes of Kenyans, leaving no one behind.