STRENGTHENING LOCAL CAPACITY TO DELIVER BETTER HEALTH CARE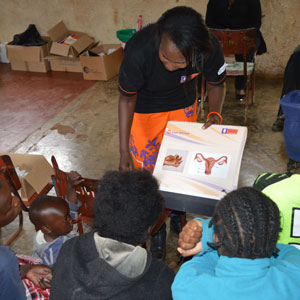 WHAT IS 'SOCIAL FRANCHISING'?
Social Franchising applies commercial franchising strategies to the health sector to efficiently expand access to higher quality healthcare that is affordable to underserved communities. Social franchising works by creating a network of health care providers that are contractually obligated to deliver specified services in accordance with franchise standards under a common brand. Social franchising is a cost- effective way to improve access, quality and equity of health service delivery via the private sector. .
WHAT DOES SOCIAL FRANCHISING ADDRESS?

Social Franchising addresses:
Unmet need for greater access to quality, affordable health services
An overburdened public health system, an under – regulated private sector
Low participation of private sector in delivering preventive health care
Lack of incentives for health providers to deliver quality health care
Limited professional development opportunities for health care professionals particularly in the private sector
Limited access to health financing mechanisms for private sector health system

HOW IS SOCIAL FRANCHISING SUCCESS MEASURED?

Success is measured relative to the four globally accepted objectives of social franchising:
Increased access to providers (scale) and services offered (scope)
Improved quality standards
Increased equity in serving all population segments
Maximized cost – effectiveness
Success is also measured in terms of the role the social franchise plays in strengthening the total health system in a country.
HOW DO STAKEHOLDERS BENEFIT?
Clients: Benefit from increased access to high-quality services at affordable prices
Franchisees: (members of the network) benefit from increased clinic revenues that are generated through an expanding clientele; professional satisfaction (ability to improve their quality of care and increase client satisfaction); rewards (e.g. financial); enhanced reputation due to certification and bran affiliation; bulk purchasing rates, networking opportunities, insurance buy-in opportunities.
Franchisors: are able to achieve greater health impact by offering a range of services that respond to target audience needs at scale
Governments: benefit from improved national health indicators and a more organized and regulated private health sector.