Ending gender-based violence will involve action at all levels: challenging social norms that condone violence or impose gender roles; strengthening legislation to criminalize violence and prosecuting the perpetrators. Through the Accelerate project, PS Kenya is engaging the boda boda (motorcycle) sector with an intention of shaping their attitudes toward gender equality and fostering greater respect for girls and women's rights.
The boda boda (motorcycle) transport is a major part of the Kenyan economy and a source of employment and livelihood for many, including unemployed youths. The rise of this sector is attributed to the zero-rating of import duties on motorcycles of up to 250cc by the government in 2008, which saw an increased demand for boda boda in the public sector. The National Transport and Safety Authority (NTSA) reported that there were 1,393,390 motorcycles registered in Kenya as of February 2018.
Despite the many benefits, the boda boda transport sector is evolving into a potentially negative force that could get out of control with serious repercussions for the country if not well managed and regulated. In recent times, the sector has found itself on the wrong side of the law, rogue riders have penetrated the sector and are perpetuating violence against women and girls. Recently, there was an uproar in the country when a viral video of riders sexually assaulting a female motorist in Nairobi County was shared on social media. Informed by this and other occurrences, the government and other stake holders have stepped in with policies that will regulate the sector.
One of the regulations involved the registration of all riders for purposes of accountability. This has seen many riders register and form associations in order to weed out crooks. It is through such associations that PS Kenya has managed to reach out to riders with messages on the need to stand up against gender-based violence and other harmful practices. Luckily, our engagement with one such association, the Narok County Boda Boda Association is gradually bearing fruit. The association has taken a firm stand against gender-based violence and is partnering with us in educating its members on the need to respect the rights of women and girls.
"Previously, Boda boda riders were mistakenly associated with bad behavior like violence, crime and preying on teenage girls for sexual favors which damaged our reputation. To correct this and gain confidence from our customers and the community, we have partnered with PS Kenya and Narok County Youth Network to educate our members on the need to respect our girls and women," Gideon Lemaiyan, Chairman Narok County Boda Boda Association.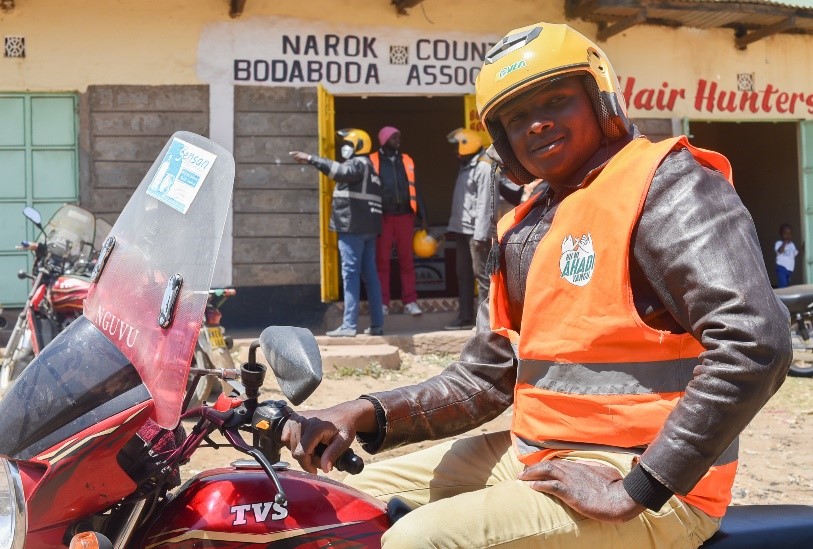 The association has gone ahead to ensure that all riders registered with the association commit to upholding greater responsibility and those who are found to have taken advantage of girls and women are disciplined by being deregistered and their cases forwarded to the police.
To achieve this, PS Kenya is working with the Narok County Youth Network, a Community Based Organization (CBO) that is making it easier for the association with a membership of 6,027 boda boda riders to benefit from the messages, they have proceeded to mentor members within the association who are now acting as role models to their colleagues.
"As one of the beneficiaries, I have taken up the role of educating other motorists on the need to respect women and girls both at home and in the community," Stephen Karmusho, Member Narok County Boda boda Association.
The project is funded by DANIDA and implemented in a consortium led by Population Services Kenya (PS KENYA) in partnership with Gender Violence Recovery Centre (GVRC) and Population Services International (PSI).