Sharon had just finished feeding her baby and was attending to house chores when she heard the voice of a woman calling from outside, asking whether there was anyone at home. She stopped what she was doing and went to check who was calling. Outside the house, she met a middle-aged woman who was well known to her and worked as a Community Health Volunteer. She greeted and welcomed her, then dashed back to the house and brought a chair for her.
She informed the Community Health Volunteer that her parents were not at home, but the CHV quickly interjected, indicating that the visit was meant for Sharon and not her parents and that she had already briefed her parents on the visit, Sharon was perplexed. The CHV proceeded to indicate that there was a project by the name Binti Shupavu that was empowering young mothers like her with hand skills, and that it was her wish that Sharon enrolled to benefit. She also informed her that the project was offered free of charge and the skills gained would link them to economic opportunities. She accepted and enrolled; to her, this was an opportunity to change her fate.
Sharon hadn't been lucky in her education journey. She dropped out of secondary school due to lack of school fees. Her parents were not able to cater for her education as they only depended on small-scale farming which was not sufficient to cater for her education and other basic needs of the family. Dropping out of school shuttered her dreams. She was left to attend to house chores and at times did some manual jobs for some small money; this was with the purpose of supplementing what her parents were getting from the sale of farm produce.
As months passed, she got into a sexual relationship which resulted in an unplanned pregnancy. Realizing this, she informed her boyfriend who denied responsibility. After a few weeks, she chose to inform her mother because she would have realized as pregnancy-related symptoms had started manifesting. The mother was heartbroken, she informed the father who demanded to know who was responsible. Sharon revealed the identity of the boyfriend and after following up, the parents realized that the boy wasn't going to be responsible. In their devastation, they decided to take up the responsibility of taking care of their daughter and the unborn child.
When the time came to begin the Binti Shupavu classes, she happily began her classes. During their first meeting, they were guided in setting their individual goals. They were then exposed to several hand skills like hairdressing, knitting, tailoring, and baking. Sharon chose hairdressing as she had a passion for it. She religiously attended her hairdressing skills classes with the guidance of a mentor. After weeks of rigorously training, she made it to the list of the first cohort to graduate.  In addition to gaining skills, she also benefitted from information on sexual and reproductive health, that would be key in ensuring that she was able to plan on when next to get pregnant.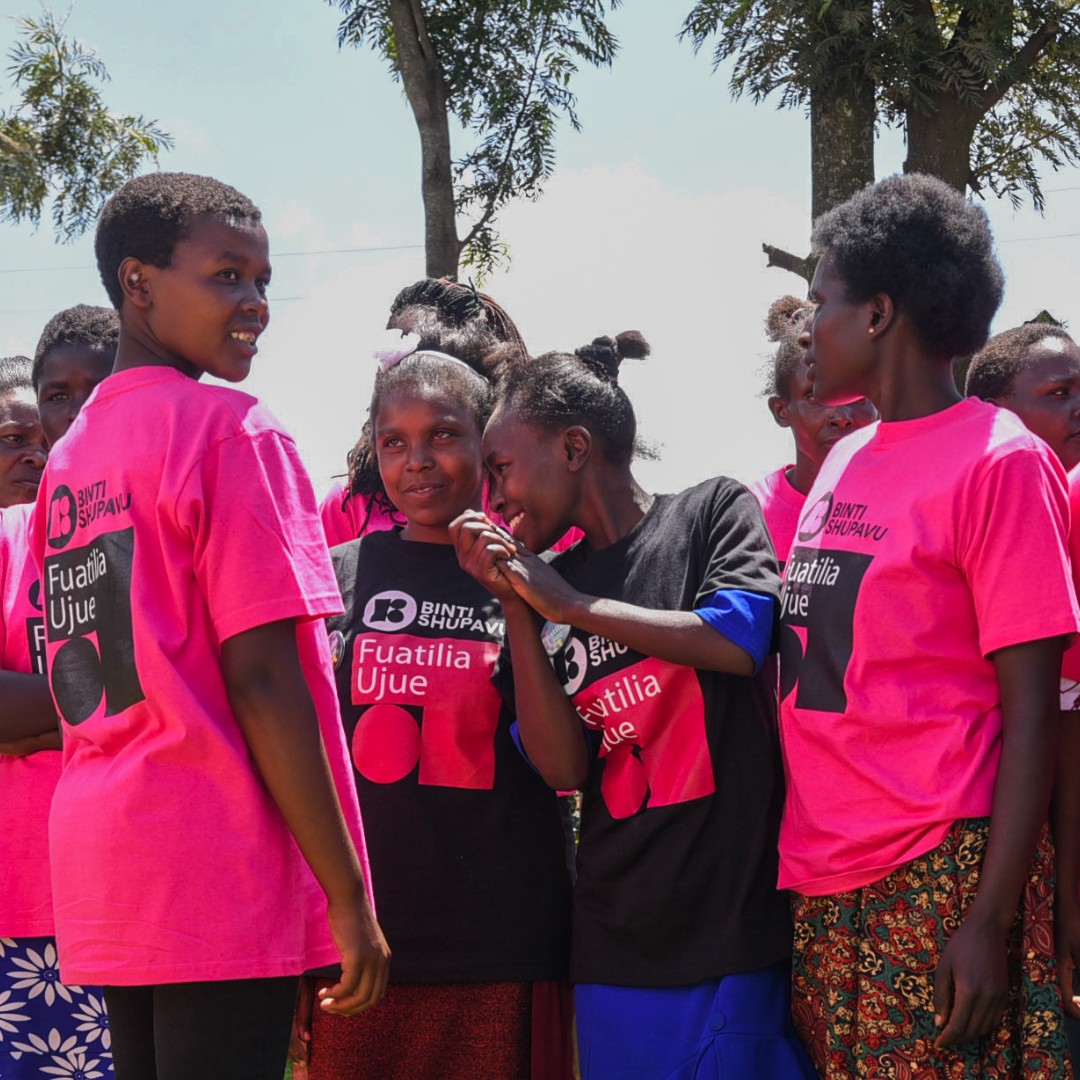 After graduating, she volunteered at a nearby salon, where she perfected her skills. Overtime, she saved up enough to purchase some few equipment and started her own salon business.  We met her with her daughter at her newly opened salon located in Ol Mekenyu center in Narok County. She is grateful that the project has enabled her to also make informed sexual and reproductive health choices. Her financial independence has enabled Sharon to support her baby and siblings.
"Even if I never got a chance to complete my studies, Binti Shupavu has given me a second chance in life, I am now able to make choices about when to get pregnant. In addition, the skills I got have enabled me to open this salon, I am on the right path to realizing my dream of becoming a successful business lady," stated Sharon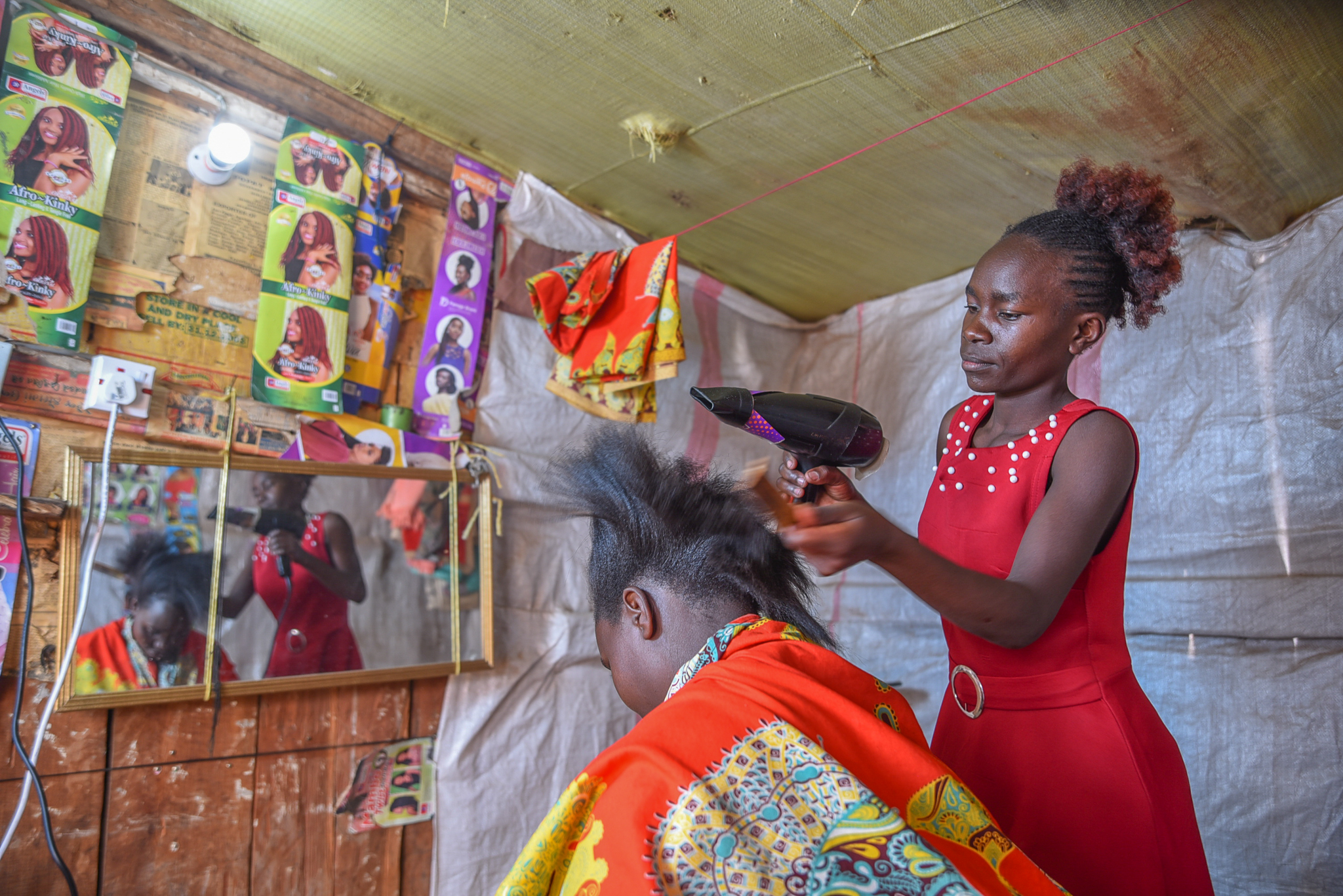 Through the Binti Shupavu project, Population Services Kenya is empowering young mothers in five counties in Kenya (Kilifi, Narok, Homa Bay, Migori and Kajiado).Binti Shupavu, A360 project  is  funded by the Children Investment Fund Foundation.