In an era defined by unprecedented technological advancements, humanity finds itself facing an existential crisis: climate change. Climate change refers to a prolonged modification of global weather patterns and average temperatures that is primarily caused by activities such as deforestation, the burning of fossil fuels, transportation systems, and industrial processes, among others. As our planet undergoes profound shifts, the consequences of our actions have become impossible to ignore. From people dying in one corner of the world due to drought to others dying due to extreme flooding, the implications of rising temperatures and changing weather patterns are being felt far and wide, posing immense challenges to ecosystems and societies, but most of all, to future generations.
World Climate Change Day is recognized annually on the 15th of May, with the main call to action encouraging individuals to adopt environmentally friendly practices, commonly under the umbrella phrase 'Go Green'. It goes without saying that humans are the primary cause of the large amounts of greenhouse gases that get expelled into the atmosphere daily, causing the earth's temperature to rise.
In Kenya, one of the most noticeable impacts of climate change is the unpredictable weather patterns, from short erratic rainfall to long dry spells. The changing weather pattern has come because of global warming with a report from the International Rescue Committee (IRC) projecting a severe drought between the months of March and June in some parts of Kenya that would leave 5.4 million people without adequate access to food and water.
PS Kenya marked World Climate Change Day by holding a short meeting to remind all staff members of the importance of going green as we work towards creating a sustainable and environmentally conscious workplace. The meeting aimed at raising awareness and enhancing knowledge on how we can make a difference both at the individual and community levels.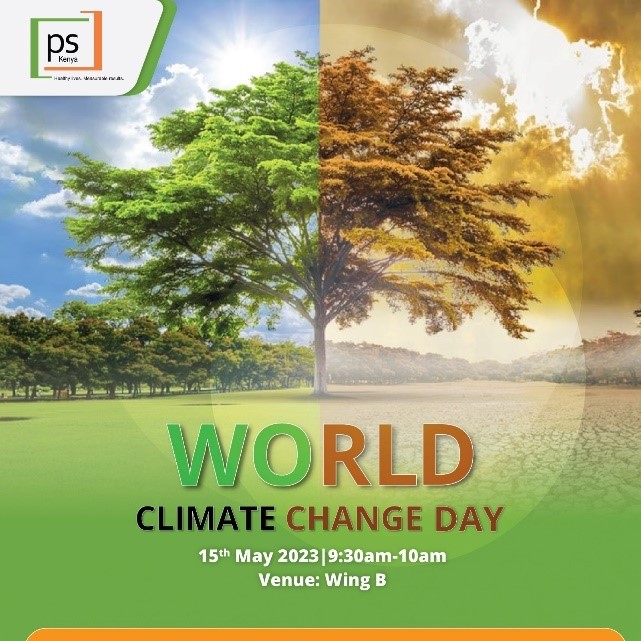 With our footprint in every county in the country, PS Kenya is required to hit the road every once in a while and cover vast kilometers to positively impact a beneficiary's life. In an instance where some staff members are going to make a difference in Kisumu County and others in Busia County, we are encouraged to carpool, thus reducing the amount of carbon emissions. There is also a consensus that when the clock strikes 5:30 p.m., staff heading home in the same direction again carpool to contribute positively to climate change.
PS Kenya contributes to a reduction in single-use waste by employing the use of reusable cups and bottles by staff, thus minimizing the amount of energy and resources that would go into the production, transportation, and disposal of plastic cups. What seems like a small step in the right direction could save the earth if adopted on a collective scale by many more organizations.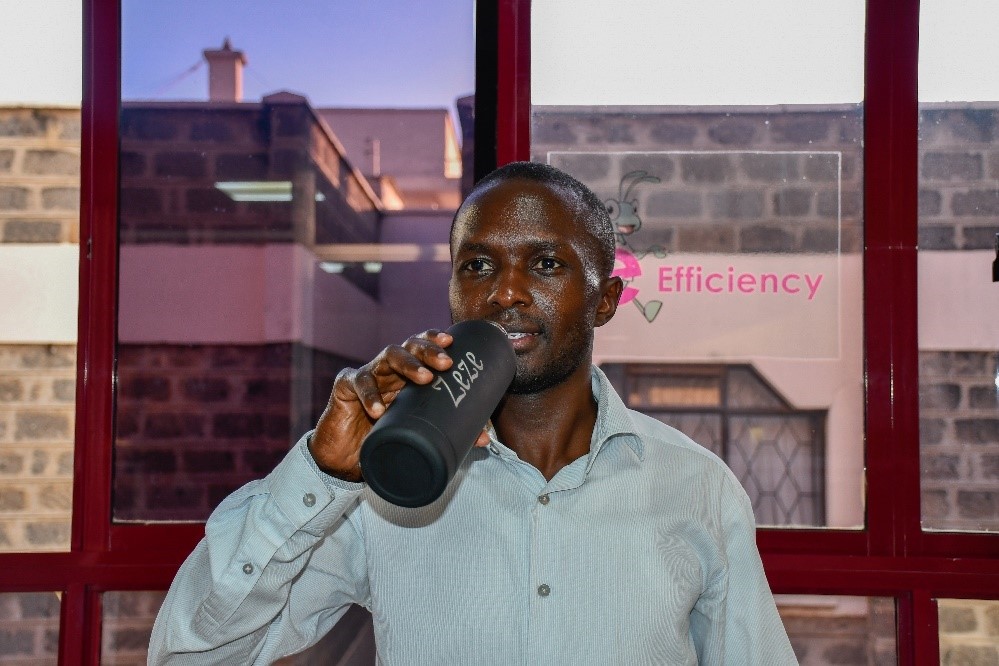 One of the most efficient ways to mitigate climate change effects is transitioning to renewable energy sources such as solar power. The generation of electricity from solar power does not lead to the emission of carbon dioxide and other greenhouse gases. PS Kenya encourages the use of solar power through our 'Tunza Solar' project, which aims to provide health facilities, one of the biggest consumers of electricity, with clean energy, thereby contributing to the fulfillment of the UN Sustainable Development Goal (SDGs) number seven on 'Affordable, Reliable, Sustainable, and Modern Energy.' PS Kenya's solar power project, which is supported by the Nordic Climate Fund and runs on a pay-as-you-go business model, aims to provide our Tunza Health Network facilities with renewable and clean energy that is more dependable and cost-effective.
There is an urgent need for collective action to address the challenges brought about by climate change. Together, we can foster a global movement that drives positive change, for it is only through our united commitment that we can secure a healthier, greener, and more sustainable planet for generations to come.