The seventh edition of the Africa Health Business Symposium (AHBS) was held on November 24, 2022, under the theme: The role of the private sector in advancing men's health in Africa. AHBS is a pan-African conference that sits at the heart of the African healthcare scene and aims to create a more enabling environment for the private health sector on the continent. It brings together different stakeholders in a bid to address the barriers affecting men's health-seeking behavior.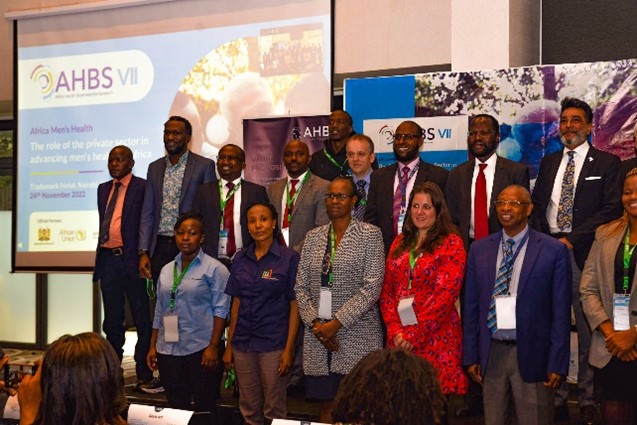 Globally, men's health trends show that their life expectancy has consistently been lower over the years. A report published by the World Health Organization (WHO) in 2019 shows that men's expectancy stood at 70.9 years, while women's was 75.9 years. Men's poor health-seeking behavior results in serious illnesses getting a late diagnosis. Surveys have shown that most men often believe that they are in good health and are unwilling to make time to go for regular check-ups. Societal and cultural barriers, such as their need to put up a façade of appearing strong and unbowed at all times, are also huge factors.
"The public and private sectors must work together to provide accessible, sustainable, and affordable healthcare systems in the country." This will encourage more men to take up healthcare as the cost also acts as a barrier. "—Anyango Nyongo, Governor Kisumu County
PS Kenya invests in men's health through its private sector initiatives, such as HIV self-testing kits. The campaign, dubbed "Confirm Unajijua," aims to encourage the public, with its priority audience being men above 35 years of age, to take up regular HIV self-testing as a means to keep up with their health. The organization also takes an interest in men in their different programs, such as DESIP and Accelerate, where they encourage husbands to be more involved and supportive of their wives in the family planning journey. Through the Accelerate project, PS Kenya is engaging the boda boda (motorcycle) sector with the intention of shaping their attitudes toward gender equality and fostering greater respect for girls and women's rights.
Reducing the burden of morbidity and mortality in men has potential benefits for women, children, and society at large. Thus, the effort to improve health must focus on the health needs of both sexes and adjust to the differences between them. Diseases such as heart disease, cancer (colorectal, testicular, prostate, and lung), stroke, lung disease, and diabetes are silent illnesses that require routine checkups and screenings. The risk of developing these conditions can be lowered with a healthy lifestyle, a healthy diet, regular exercise, and regular health care.