World AIDS Day is celebrated annually on the first of December, with the main goal being to rally support for people living with HIV and to remember those who have died from AIDS-related illnesses. This year's theme was "Equalize," a call to action for everyone to address the inequalities that are holding back progress in ending AIDS. The theme adopted to fit the Kenyan context was "End the Triple Threat: New HIV Infections, Adolescent Pregnancies, and Sexual and Gender-Based Violence."
The national World AIDS Day celebrations were held at the University of Nairobi grounds, and PS Kenya's SHIPs team was in attendance to popularize their campaign dubbed "Confirm Unajijua." The campaign aims to encourage users to take up HIV self-testing as a means of keeping up with their status. They also brought attention to their self-care chatbot, aptly named "ASKA," which allows users from Nairobi and Kisumu counties to find online or physical pharmacies near them that sell quality approved HIV self-testing kits, among other services. On display, they also had a self-testing kit vending machine, which was designed to improve the convenience and confidentiality of purchasing HIV self-testing kits.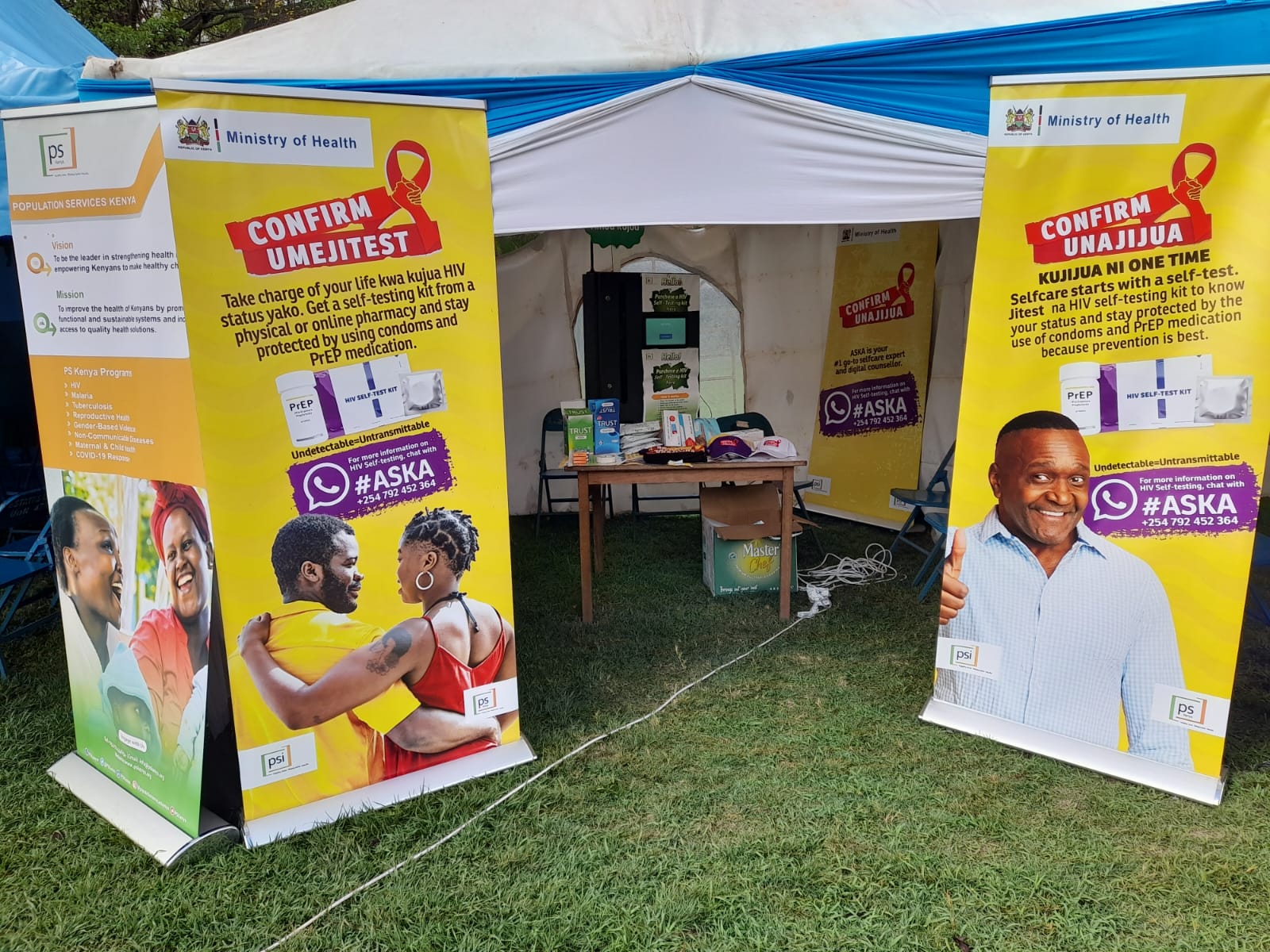 According to the World Health Organization (WHO), 84.2 million people have been infected with the HIV virus, and about 40.1 million have died of HIV to date. According to the Kenyan Health Policy 2014-2030, one of the top priorities is the eradication of communicable diseases such as HIV and AIDS. Despite the tremendous progress made in more than three decades of the HIV and AIDS response, the epidemic continues to be a significant contributor to the national disease burden. To address this, PS Kenya partnered with the National AIDS and STI Control Programme (NASCOP) as well as the Nairobi and Kisumu County governments.
PS Kenya goal to prevent HIV infection has ensured we remain the leader in implementing innovative and evidence-based HIV prevention programs in Kenya. PS Kenya has worked to prevent HIV infection and remains the leader in implementing innovative and evidence-based HIV prevention programs in Kenya. Various social behavior change campaigns such as 'Wacha Mpango wa Kando', 'Pinch, Place and Roll', and 'Nakufeel' were implemented to reduce risky sexual practices among at-risk and vulnerable populations. HIV Self-testing campaigns such as 'Chukua Selfie' and the current 'Confirm Unajijua' aim to address barriers to the uptake of HIV testing and counselling. Campaigns are delivered through innovative and appropriate channels to reach those most at risk populations.