The 6th Annual Scientific Conference on Adolescent and Youth Sexual and Reproductive Health and Rights (ASRHR) took place from June 19th to June 23rd, 2023, in Kwale County. Population Services Kenya (PS Kenya) was a proud partner of the conference that was jointly convened by the Reproductive Health Network of Kenya (RHNK), The Centre for Reproductive Rights, FP 2030, and The Ministry of Health (MOH). This year's theme was 'The Localization of Global Adolescent and Youth Sexual Reproductive Health Rights Commitments' and attracted hundreds of stakeholders both from within and outside of the country, with a good representation from the youth, reiterating the mantra nothing for us, without us.
PS Kenya submitted eight abstract presentations at this year's conference, all covering topics that sought to empower Kenyan youth and adolescents from different parts of the country and communities to make better health choices in terms of sexual and reproductive health.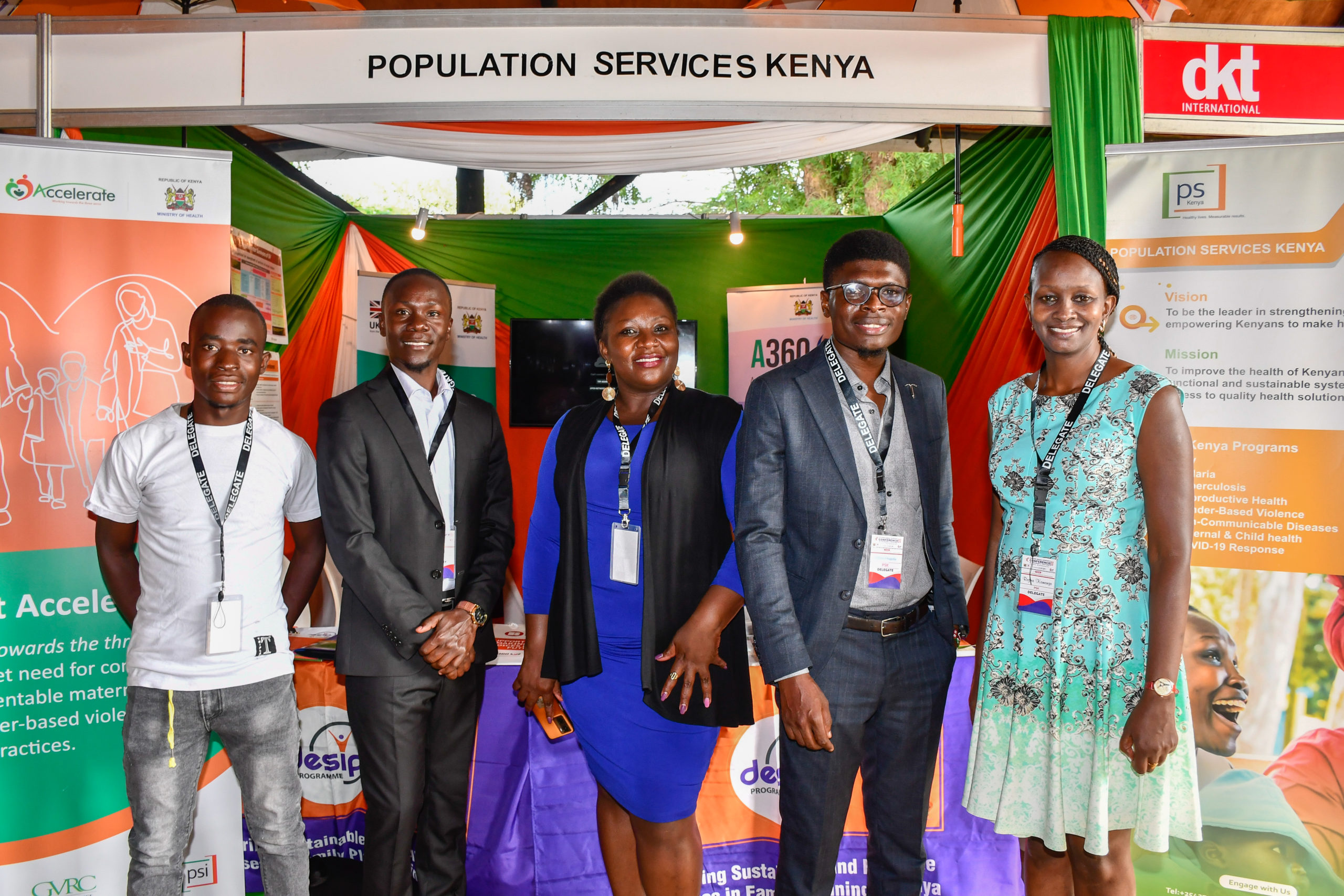 With a focus on West Pokot County, PS Kenya presented an abstract on the meaningful involvement of young people to increase uptake and access to contraceptive services. Apart from teenage pregnancies, adolescents in the county face a lot of challenges, including gender-based violence and harmful traditional practices such as female genital mutilation, a vice that we are fighting against through the Ahadi Yangu campaign under the Accelerate Program funded by the Danish Embassy. The program works with local youth community-based organizations to implement, advise on, and coordinate activities that will lead to the uptake of family planning services in the county. In the year 2022, West Pokot and Central Pokot sub-counties had a total of 8,283 and 12,887 adolescents and young women aged 10 to 24 years who accessed family planning services through the program, respectively.
We presented four abstracts under PS Kenya's Binti Shupavu project, all focusing on different topics of study that we conducted about the uptake of contraceptives among adolescent girls aged 15–19 years. According to the 2022 Kenya Demographic Health Survey (KDHS), 15% of women aged 15–19 have ever been pregnant. The project is currently active in four counties: Homabay, Kilifi, Migori, and Narok. Through our partnership with different stakeholders in the said counties, between October 2021 and December 2022, we have been able to reach 47,043 adolescent girls, among whom 29,215 adopted contraceptive methods.
Under the HIV project in the current Confirm Unajijua digital campaign, PS Kenya presented three abstracts focusing on the uptake of HIV self-testing among youth. The campaign target audiences were males and females aged 18 to 34 in Nairobi and Kisumu counties. The abstracts focused on the use of a WhatsApp chatbot to support the effective use of self-testing kits, the role of pharmacies in the promotion of self-testing as a form of self-care, and leveraging concerts and festivals to promote HIV self-testing and prevention. Impact highlights from each study were as follows: 6,096 individuals were reached with information on HIV self-testing and prevention in the different publicity activations that the campaign took part in; 486 clients used the WhatsApp chatbot to access HIV self-testing information, with 93.6% of them being 16 to 35 years old; and 16,049 World Health Organization (WHO) pre-qualified kits were sold between April 2022 and February 2023.
The conference was an opportunity for different stakeholders in the reproductive health movement to showcase their innovative approaches, highlight their success stories, and identify areas for improvement. As PS Kenya, in collaboration with our different donors and the Ministry of Health, we will continue to provide access to comprehensive and inclusive information and services on sexual reproductive health rights under our reproductive health program and through our various campaigns. PS Kenya remains committed to continue effecting change within communities and advocating for policy reforms that will lead to the wholesome achievement of all set goals and objectives.