In the heart of Narok County, amidst its tranquil nature and greenery that stretches as far as the eye can see, lives Joseph Sirikwa, a hardworking father of four who has taken up the responsibility of educating his community members on the importance of family planning. The Maasai community is known for its belief in siring children as a sign of wealth, and yet for Joseph and his wife, the decision to stop at four was a no-brainer after they were enlightened on the benefits of family planning. "My wife and I have aimed to set a good example in our community by practicing family planning. We spaced each of our children by two years after learning about the benefits and doing away with all the myths and misconceptions that surround the topic."
Working as a family planning Male Champion
A typical day for Joseph starts with taking his cows out to graze, where he meets up with his fellow men and, among other topics, makes sure to inform them of an upcoming family planning dialogue session. Motivated by the need to empower fellow men to make decisions that would have a positive impact not only at the individual level but for the community as a whole, Joseph would then go back home and collect his information, education, and communication (IEC) materials from his wife and, with her blessing, head out to perform what he has taken up as his calling. Waiting in a field near his homestead was a diverse group of men representing different age groups and perspectives, but all very eager to learn and have an open conversation about family planning, contraceptives, and reproductive health as a whole. Joseph targets both the young and the old men, stating that in his community even the old men require family planning as they get married to young women and have children.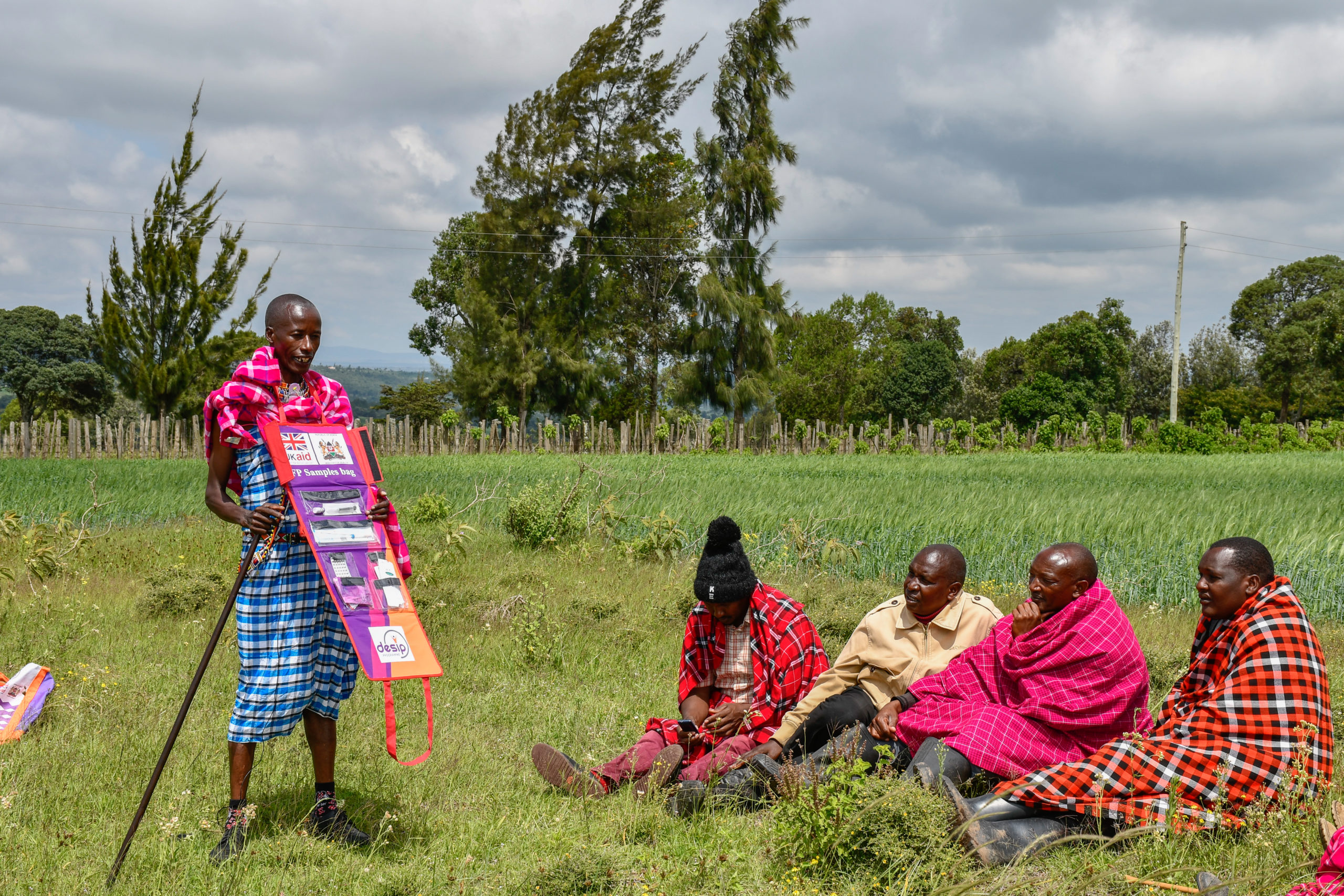 "Those who have no knowledge about family planning think it is harmful; however, I am here to tell you that it is very important. It not only helps you to space out your children but also enables you to provide enough resources to cater to each of their needs," stated Joseph. Armed with the DESIP program family planning training kit, Joseph then proceeded to take out the different contraceptive methods, that is, both female and male condoms, the coil, oral contraceptives, or the pill, and the DEPO injection. One by one, Joseph took the group of men through each method and went into the details of how each worked, proving how empowered he was as a male community health volunteer. "We were trained on family planning for one and a half months, shown how to administer some of the methods, and taught how to write referral notes for the methods that require doctors. This training from the DESIP program has empowered us to go into the villages and teach the youth, middle-aged men, and elderly men about family planning," says Joseph
Advisory to Men
Joseph stressed the need for husbands to support their wives and take a more active role in their family planning journey. He advised them on the importance of taking it on as a shared responsibility, as it would lead to a healthier relationship with better informed decisions and improve their general well-being. For Joseph, spreading the word on family planning in a community that still considers the topic taboo comes with its challenges, with some men accusing him of encouraging infidelity within their marriages. However, he remains relentless in his pursuit of a well-informed community and with the backing of PS Kenya's DESIP program, he pledges to ensure that the men of Narok County take the right steps and make family planning initiatives more inclusive.