Family planning, or child spacing," as it is referred to in Islam, is the practice of using contraception to control the number of children one has and how much space there is between them. The practice itself is riddled with a lot of myths and misconceptions, from its supposed side effects to its role as a population control strategy, that act as barriers to its uptake. The attitudes and beliefs towards family planning are deeply influenced by a lot of social factors, including religion, with Pastors and Imaams' acting as trusted sources and voices of reason in the community.
Religion is important to the masses and has a great impact on both individuals and the community as a whole. Some people interpret the scriptures views on family planning as saying that the practice is morally wrong and goes against the natural order of life, as referred from the Christian bible in Genesis 1.28, 'Be fruitful and multiply'. These beliefs may discourage individuals from using contraception, which can lead to unintended pregnancies and larger family sizes.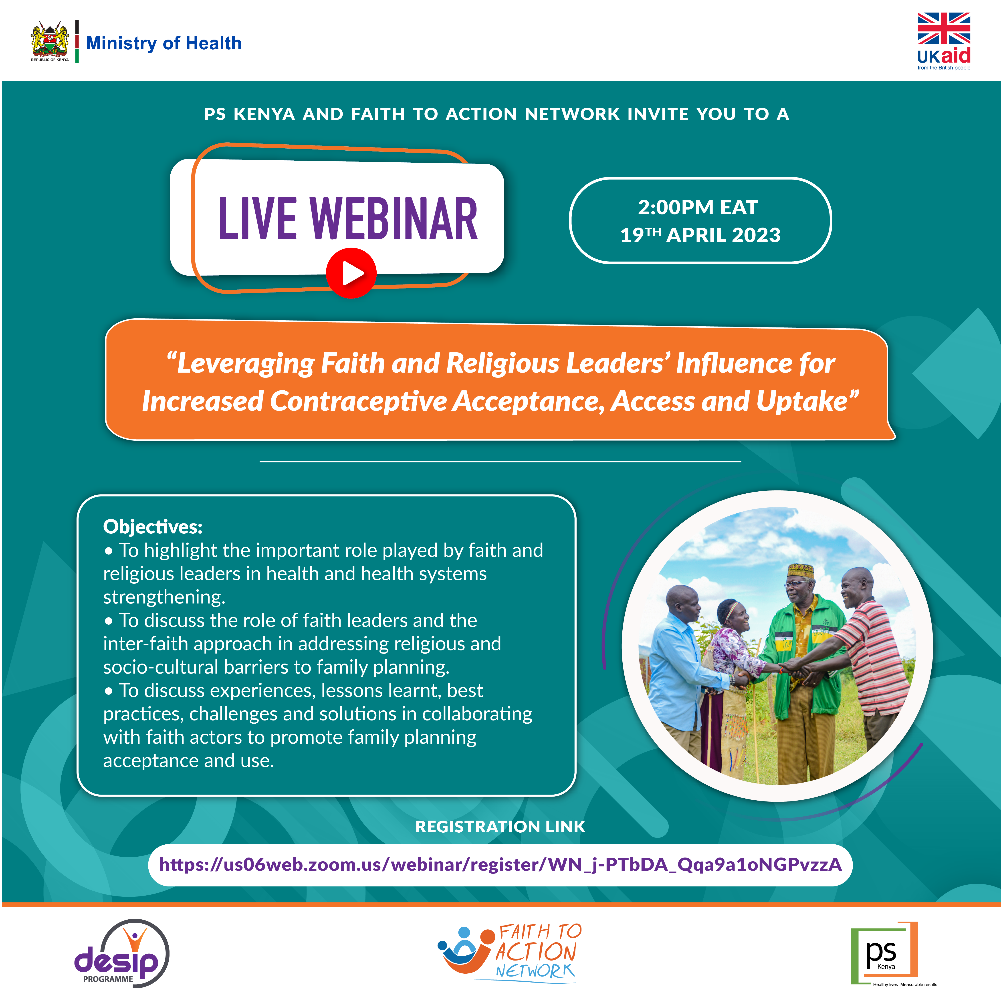 Religious leaders have the unique advantage of being able to reach both women and men to educate them on the importance of child spacing. They are in a position to act as change agents and policymakers and use their platform to address their congregations on the benefits of family planning for maternal and child health, women's empowerment, and the well-being of families. They can also address misconceptions about the scriptures interpretations by providing a more accurate reading and encouraging open dialogue.
Sheikh Lethome from the Supreme Council of Kenya Muslims (SUPKEM) highlighted the need for sensitivity in the language and terminology used to discuss family planning when interacting with faith leaders. He pointed out that the accepted terminology in Islam is "child spacing" and that the Qur'an says that women should breastfeed their children for two years.
PS Kenya's DESIP Program, funded by UKAID, aims to increase family planning uptake among poor rural women, adolescents, youth, and persons with disabilities and is currently implemented in 12 counties in Kenya. The program continuously partners with religious and cultural leaders to educate the communities on the cultural and religious provisions on family planning. DESIP works with religious leaders and other policymakers to advocate for the accessibility and affordability of contraceptives for all who need them. The program recently hosted a live webinar in collaboration with the Faith to Action Network, where they highlighted the role of faith and religious leaders and had meaningful engagement with faith actors on matters of health.
In conclusion, religion can play a complex role in the uptake of family planning, and it is important for all policymakers and healthcare providers to be sensitive to the religious and cultural beliefs of their clients when discussing family planning options.