Since the first case of COVID-19 was confirmed in Kenya, PS Kenya put in place a number of initiatives that could be leveraged on to support the fight against the Covid-19 disease. The Tunza social franchise network, is one great resource, working with over 400 franchised private facilities, where it focuses on building the capacity of providers to offer quality health services.
No one is safe from COVID-19 until everyone is safe
Vaccination is a key intervention that could rapidly interrupt COVID-19 transmission and reduce the burden of disease and deaths. The COVID-19 pandemic continues to be a top priority for the Ministry of Health and PS Kenya continues to align its priorities with the MOH on enforcing multiple measures to limit the spread of the virus, including social distancing, cough etiquette, handwashing, use of masks while in public, and supporting vaccination efforts. Kenya has done this through a number of initiatives, including:
Coalition for Changing Hygiene Behavior
Through the Hygiene and Behaviour Change Coalition (HBCC) project that FCDO and Unilever funded, PS Kenya carried out activities that were supporting MOH to combat COVID 19 virus. The activities included:
1) Supporting MoH to develop and increase reach for the COVID-19 communication campaign dubbed "Komesha Corona Okoa Maisha" ("Stop Corona, Save Lives") with an emphasis on handwashing, surface hygiene, social distancing, and proper use of masks.
2) Activities at the community level in Nairobi and Mombasa.
3) Using digital platforms to build the capacity of private health providers and community health workers.
4) Distribution of Covid-19 PPEs (masks and gloves) and Unilever hygiene supplies such as soaps and scouring powders aimed at improving infection prevention at the health facility level.
Through the PS Kenya sponsored messages that were shared through mass media, social media, and IPC (Inter-personal communication), over 30 million people were reached with the COVID-19 preventive messages. Kenya further supported the adaptation of the global UNILEVER 'Password' campaign which turned the four hygiene habits (handwashing, wearing a mask, maintaining space, and surface hygiene) into a Password that enabled us to start taking our world back from COVID-19 .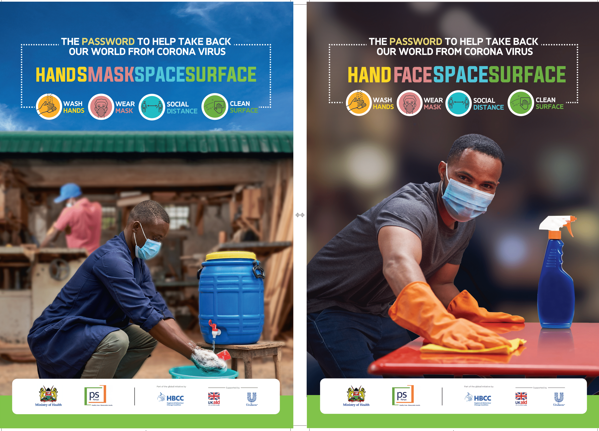 From an endline done on the Komesha corona campaign, 66% of consumers believed that the disease does exist. The prevention measures adopted included mask-wearing (89%), washing hands (70%), sanitizing hands (43%), social distancing (38%), and avoiding crowds (23%). There was a great ripple effect where 81% shared information from the KCOM campaign with others. People with disabilities adopted additional behaviors for personal hygiene as their disability status made them feel vulnerable. .